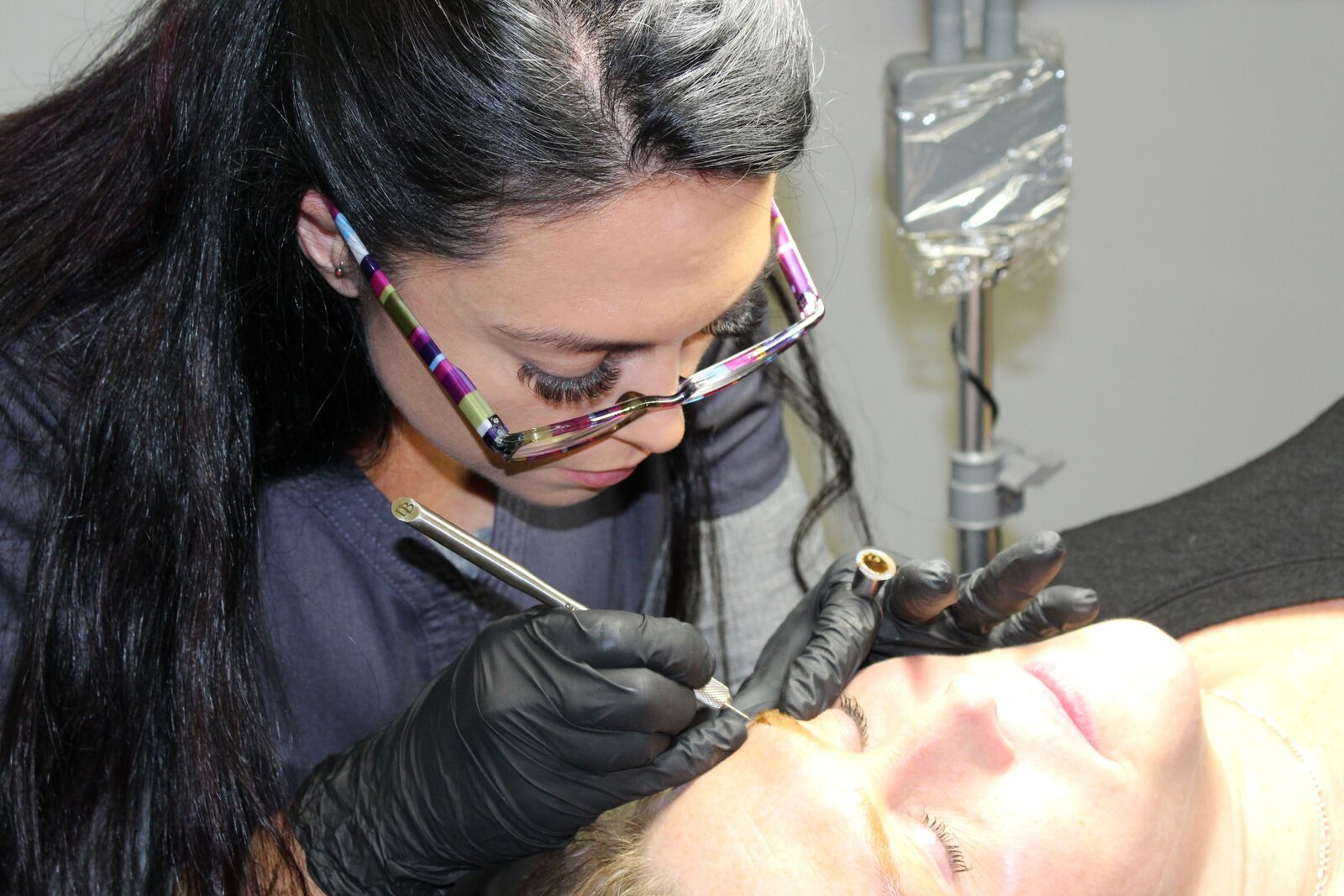 MICROBLADING
Eyebrow Microblading is a form of PMU (Permanent MakeUp), also known as Eyebrow Embroidery or 3D Brows, in which a manual handtool is used to create a light-depth tattoo in the skin that has the appearance of 3D-looking hairstrokes. The great thing about this relatively new technique is that it does not appear as a tattoo. Whether you choose to do hair strokes only, or add brow powder-esque shading, it is virtually undetectable once healed, and appears only as fuller, more defined brows. We first start with a shape consultation and customization before microstroking pigment in to the skin to enhance, fill-in, and define the existing brow shape and hairs. An initial 6-8 week touch-up is needed, and then maintenance touch-ups every 9-20 months thereafter.
Microblading is ideal for anyone over 18 wanting to enhance the look of their eyebrows. The results are natural looking hair-like strokes, regardless of the amount of hair you currently have.
Permanent Lash Liner or Eyeliner
This machine technique adds a defining liner effect just through the actual eyelash line, causing the lash line to "pop" and look thicker, similar to a "tight-lining" makeup look. This can be thickened up into a more traditional liner look if desired. A 6 week touch-up appointment may be desired, but is not always required depending on individual healing. Liner will last 3-5 years before needing a color boost touch-up. Both top and bottom lash lines can be defined and enhanced.
I'm not sure which Microblading option I should choose? (Strokes, Shading, Ombré, etc.)
Well, that all comes down to 2 things- skin type and personal preference…
Preference: Microblading alone is going to heal to look like a "naked" brow (one with no pencil or brow powder makeup on it). It will look fuller like there are more natural hairs in the brow, but will not have the appearance of a brow that has been made-up with powder or pencil. If that look is desired, or if the existing brow has very little hair left, it is best to go with Microblading + Shading, or a Powder/Ombré brow.
Skin Type: Those with normal to dry skin, and smooth texture, will heal and maintain the crispest looking hair strokes for the longest amount of time. They are good candidates for Microblading.
Those with extremely oily or textured skin, or problematic skin are not ideal for Microblading as they will not hold very crisp strokes and may see blotchy areas, or strokes that blur out over time. A Powder/Ombré brow is ideal for this client.
Clients who use strong topicals such as Rx Retinols, Hydroquinone, get frequent Peels, etc will see their results fade much faster. A Powder/Ombré brow is ideal for this client.
Previous Tattoo: If you have a previous brow tattoo (not Microblading), you are not a candidate for Microblading as there is too much solid pigment already there for strokes to show. You MAY be a candidate for a Powder/Ombré brow, but will need to email us pictures before booking to assess eligibility. In some cases, tattoo removal may be recommended before we can attempt to correct or touch-up past work.
Who should NOT have Microblading?
The following types of clients are NOT eligible for Permanent Makeup:
Pregnant/Nursing
Compromised Skin near Brow or Eye Area
Liver Disease- high risk of infection
Chemotherapy/Radiation
Viral infections and/or diseases
Using Accutane
Skin irritations or Psoriasis near the treated area (rashes, sunburn, acne, etc.)
Botox or Chemical Peel in the past 2 weeks
Anyone under 18
WITH DOCTOR'S NOTE ONLY:
Diabetes 1 & 2, Auto-immune disease, Thyroid/Graves' disease, or any other medical condition that causes slow healing or high risk of infection
Blood Thinner medications- would have to stop 1 month prior and need Dr.'s note
Cold Sore/Fever Blisters- please take anti-viral prior to treatment, especially eyeliner
Hormone Therapies- can affect pigmentation/cause sensitivity- consult your doctor first
Epilepsy
Pacemaker or major heart problems
Organ transplant
How long does the treatment take?
Microblading is a 2-part appointment, with the first session taking 2-3 hours. Liner appointments are 1-2 hours. In the first session, we will go over medical history, paper work, take pictures, map out brow shape, apply pigment, and go over aftercare. The client will need to return for a Microblading touch-up session 6-8 weeks later that will take 1-2 hours. Eyeliner clients may or may not feel they want a touch-up 6-8 weeks later depending on how well their skin held the pigment, or how thick or solid they want to see their final result.
How long will it take to heal?
Liner takes 3-7 days for surface healing. With full healing in 14- 21 days. After 3 days a NEW tube of mascara may be used, and other eye cosmetics may be applied.
Your new Microbladed eyebrows will go through several phases during the healing cycle. Eyebrows will appear darker and bolder due to natural scabbing and healing for the first 10 days. This is very common for all permanent cosmetic procedures, and the color of the pigment will soften gradually as healing takes place. You may continue to have some light flaking for 14+ days, but you will not be fully healed and see true color results for 5-6 weeks.
Why is it necessary to do a touch-up?
A touch-up is necessary because everyone heals differently and therefore the outcomes vary. After the recovery period, brows may appear lighter, uneven, or patchy in some areas. You can often expect to lose 30%-%50 of the initial pigment. This is a normal part of skin healing and regeneration that you can't control and the reason we require touch-ups 6-8 weeks later. Sometimes it is also necessary to adjust the color or brow thickness by adding more strokes. In the touch up session, the final adjustments are made to assure the client's satisfaction.
The skin needs to be fully healed before your touch-up so you must wait a minimum of 6 weeks to schedule that appointment.
How long does Microblading or Eyeliner last?
Generally Microblading lasts 9-18 months, and really just varies based on the individual. Everyone will hold differently depending on skin type, age, sun exposure, lifestyle, using retinols/acids or peels, etc. In order to achieve the crisp, realistic looking hairstrokes, the pigment is not implanted as deeply as a traditional tattoo, which is why more maintenance is required.
Is Microblading or Eyeliner painful?
The level of discomfort is relatively minor. Some liken it to threading or tweezing two to three hairs at the same time. Usually a topical anesthetic is used to numb the area being worked on. Topical anesthetics are safe and may contain lidocaine, tetracaine and epinephrine.
Redness and slight swelling in the area is common after the procedure. Often clients liken the feeling to a slight sunburn. Frequently Tylenol is used to deaden any discomfort, but only AFTER the procedure is completed.
What are the PRE-appointment instructions?
It is recommended that you book a Brow Shaping/Wax with us 3-7 days before your Microblading or Powder Brow appointment to clean up excess hair and pre-consult on shape, as no waxing can be done the day of your appointment. If necessary we can do a threading day of (normal charges apply).
Prior to the start of your session, avoid alcohol, caffeine, aspirin, ibuprofen and any vitamins for 72 hours, as sometimes these have the effect of thinning the blood. Discontinue the use of all Retinols, Lightening Acids, Acne creams, etc for 2 weeks prior to your appointment. Avoid tanning or burning prior to your appointment so natural skin tone may be assessed.
Stop the use of Grande Lash, Latisse, Lash Boost, or any other growth serum for 2 weeks before and after your Lash Liner or Eyeliner appointment, as this effects the lash glands and therefore Lash Line.
Keep in mind for planning that you can not get brows wet, excessively sweat, or have major sun exposure for 7 days (3 days for Liner) after the treatment. Brows will have some scabbing and healing for a couple of weeks.
What if I don't like the result?
Carefully choose your practitioner. Compare the work of various artists before choosing. Discuss your expectations and desired outcome, including the shape, style, and color you wish with the artist. Realize that faces are never perfectly symmetrical. Adjustments may be made during touch up, such as pigment discoloration and color correction. Remember that Microbladed brows will eventually MOSTLY fade away if touch ups are not done.
What is the Cancellation Policy?
A $50 deposit is required to book all initial Microblading or Permanent Liner appointments. If you are determined not to be a candidate, your deposit will be refunded. The deposit may be refunded or transferred if the appointment is canceled or rescheduled with a MINIMUM 48 HOURS NOTICE. Late cancellation deposits will be forfeited, no exceptions. If a client No-Shows a Microblading or Permanent Makeup Appointment, they must prepay the service in full to rebook. Due to safety and sanitation regulations NO CHILDREN OR PETS, NO EXCEPTIONS during permanent makeup appointments, you will be rescheduled and forfeit your deposit.